Newsletter September 2018
Dear friends
First let me begin by thanking all of you who have prayed for us this summer as we travelled to Zimbabwe and South Africa. I can say for sure that your prayers were truly answered. Isn't God good? He is so faithful and backs us up when we step out in faith for the Kingdom. His grace really did overlook my occasional doubts and undoubted vulnerabilities and I am grateful.
---
Zimbabwe and South Africa – 'Arise Shine Zimbabwe!' & 'Destiny' Youth Conference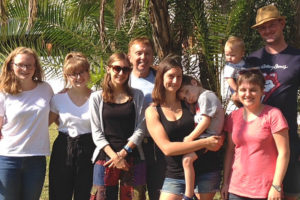 This was just a wonderful time in so many ways. I had not been back since 2015 but the welcome 'One Way
Ministries' church gave us all was truly overwhelming. They told us their children had been looking forwards to our visit for months and were just so excited. ASZ was really strong this year, and we were able to provide a very varied programe for upwards of 250 children.
Greg and Sophie Sanguine joined us for this, and they brought with them a weight of teaching experience plus the resources and a couple of classrooms that form part of 'One Way School'. It added so much. We also enjoyed meeting and working with Hannah, who is spending a year with them as a teacher at OWS. Rachel, Jessica and Lucy absolutely shone and ran the games and other activities with total confidence. On the final day we heard testimonies from many children. The atmosphere of love and warmth told its own story. There were some who came to faith for the first time. Several told us God had helped them heal from experiences of sorrow and pain and shown them how to forgive.
We then finished with an extremely energetic praise party. It slightly reminded me of years gone by – Heartbeat at Spring Harvest – except I tire a bit more easily these days! I was definitely the oldest person in the room by some distance! Afterwards came a touching moment when the senior Sunday School teacher presented us with a large bag of coins that had been given by many children to say thankyou for coming. Just US$20 in total value but so precious.
'Destiny' Youth Conference took place on 3 afternoons during our first week. It was aimed at 15 yrs and upwards; so a challenging age to deal with. We averaged around 65 young people attending each afternoon and they were definitely absorbed by the worship, games and messages. Afterwards the feedback we received from them was unanimously positive. But there were challenges for sure, and moments when I felt I had bitten off a bit more than I could chew! I rather felt that Rachel, Jessica and Lucy (two of them only 18 yrs) were thrown in the deep end with this age range, but they coped really well. One particular success was a question and answer session on the last morning where we fed back on questions they had posted anonymously the day before. Many of them had questions about teenage issues and faith; some were very personal and deep. We felt they trusted us enough to confide in us; which I had originally hoped they would. Of course it helped that most of them knew me anyway from when they were children in ASZ in previous years. The church leadership have since asked me to continue dialoguing with them as to how this new event might work better in future years. Many told us that this age range has been seriously neglected by very many churches in Zimbabwe.
---
Cote D'Ivoire reconciliation CD – please give generously!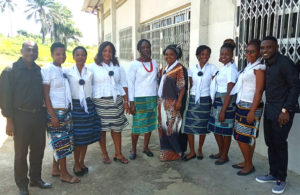 I've never been much of a fan of Christian ministry fund-raising letters. My experience has certainly been that God provides what is needed for his work, and at a time when it is needed. But I recognise there is a practical side; we do need to make our requests known to others so they can actually do whatever God asks them to do. I've just spent this week listening through all the songs Louange (Joseph's son) sent me when he and Joseph visited Abidjan in July. Many are very powerful. That group have definitely caught God's heart cry for the nation.
'Akwaba' means 'welcome' and is a strong message. This song calls out to each region within Cote D'Ivoire, blessing them in their diversity (the political and military conflict has been tearing the regions apart). There are very positive songs, like 'Mon demain sera meilleur', which looks forward to a new future when God's people place their hope in God. But also there is deep sorrow in 'J'ai tout perdu' (that young girl songwriter literally lost all her family in the conflict) and the topic of forgiveness is covered in 'Pardonne'. The song 'Priere pour la nation' is simple and direct in message. 'Jesus est la' has an empathy towards those who have suffered – we spoke about the need for this in the first songwriting workshop. We still need to find more singers but the core group is strong; Etienne and Emmanuel are especially committed to this project.
The plan is to now go ahead and make the tracks this autumn, and for me to return in early December to record all the vocals. But at present there is no money. I need to raise £2500 quite quickly to make the tracks; then later (perhaps early next year) a further £1500 to mix, master and manufacture CD's. We have asked AGIR to also pray with us and consider how to pay for the local studio costs and expenses when I go there. This may be difficult for them to find but they are committed to it. So we are certainly wanting to ask for all your prayer and support. If you feel you'd like to give, please let us know via text or email and I can get a Gift-Aid form to you. Thank you all so much.
---
Other news
Jean and I are looking forward to the arrival of Joel and Emily's new baby, due in November. Perhaps it will come early during half term week, in which case we will be right there to offer any help required! Nathan stays in a house share with friends in Queens Park, London for the time being, Malmesbury Abbey now has a new vicar, Oliver Ross, who I will be working with from time to time as an Abbey worship leader.
---
DIARY DATES – AUTUMN 2018
Sept 30th All-age celebration at Abbey, with Oliver Ross the new vicar
Oct 8th – 12th Heather Eccleston CD mix (studio)
Oct 17th Filling Station, RAU Cirencester
Oct 25th – 28th Half-term week; in Manchester with Joel, Emily and Faith
Early November Joel and Emily's new baby arrives!
Nov 21st Filling Station, RAU Cirencester
Nov 26th – 28th Rhiannon's oversight group meeting (N. Wales)
Dec 10th – 17th Possible return visit to Abidjan (CD vocals recording)
---
Love from Dave & Jean
With special thanks to The Crossroads Trust.

The Crossroads Trust is a Registered Charitable Trust, set up in 1987 with the following aims: to assist in the encouragement of missionary activity designed to foster the spread of the Christian faith; to promote better education between and within diverse cultural settings, and to provide relief for the poor and needy in society. Since 2005, the Trust has focussed solely on supporting the reconciliation ministry of Dave Bankhead and 'We are One!' Trustees include; John Jenkins (Chairman) and Simon Shaw. Registered Charitable Trust No: XN74834